Since I began recruiting more than 2 decades ago, much has remained constant. Building relationships with hiring managers and candidates is still critical. Assessing candidates for fit beyond just skills has always been necessary. And influencing others without manipulating them continues to be a primary objective of successful recruiting professionals.

Yet at the same time, much of the industry has evolved. Remember the days of sending job descriptions and receiving resumes via fax machine? (Yes, I am showing my age!) What about the introduction of job boards like Monster and the many others that followed? Or arguably the biggest change in recruiting to date – LinkedIn.


The primary evolution in the world of recruiting can be summed up simply – outbound vs. inbound recruiting.
From Outbound to Inbound
From the beginning, our primary method as recruiters has been outbound recruiting. We pick up the phone to engage candidates. Email messages are sent from recruiter to candidate to solicit interest in jobs. Recruiters post positions on various job boards and across social media in hopes of soliciting a response.
The image below captures the essence of the basic maturity model we have all experienced as recruiting professionals throughout the past 40 years.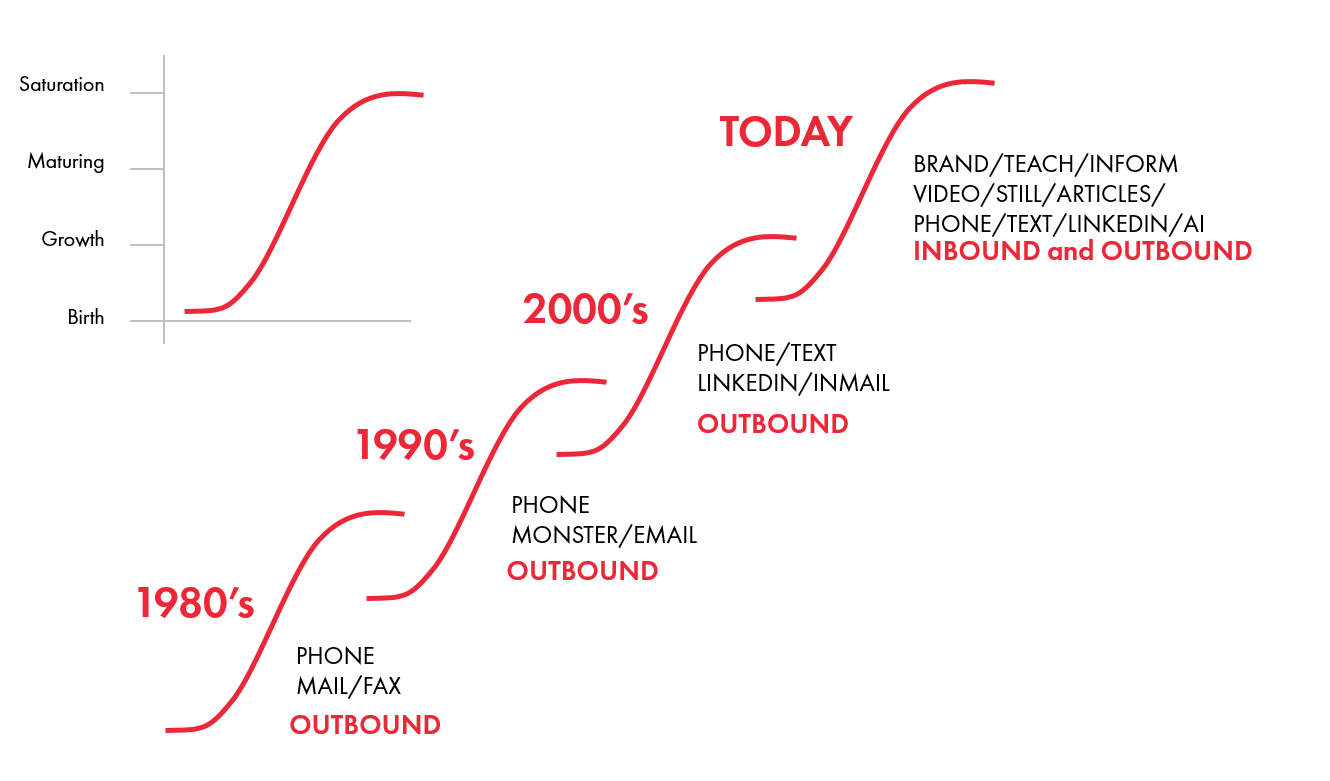 The real question is: do we understand how to take advantage of outbound AND inbound methods within recruiting?
The Recruiting Funnel of Today
Contrary to popular belief, understanding the premise behind marketing is crucial for the recruiters of today and tomorrow. The traditional recruiting funnel of the past is becoming less relevant by the day. Understanding and applying key concepts utilized by marketing professionals for decades is a significant advantage for recruiters today.
In my opinion, outbound recruiting will always be a critical component to an effective recruiting strategy. But understanding the steps required to add an inbound strategy is now a prerequisite.
Before you start publishing articles and videos on social media to drive traffic, it's important to know what each marketing step means in today's highly effective recruiting model. For simplicity, consider these definitions.


Recruitment Marketing
Awareness – Is the uppermost stage of the inbound marketing funnel. Potential candidates are drawn into this stage through marketing campaigns and discovery. Trust and thought leadership are established with advertising, content (blog posts, infographics, etc.), webinars, direct mail, viral campaigns, social media, web searches, media mentions, and more. Here, lead generation takes place. As information is collected, leads are pulled into a lead management system for nurturing further down the funnel.

Interest – Once leads are generated, they move on to the interest stage. In this stage, leads learn more about the company, its opportunities, and any helpful information and research it provides. Here is an opportunity for each employer to develop a relationship with the candidates in the lead database and introduce their positioning. Recruiters can nurture leads through emails and content that is more directed to the specific target candidate.

Consideration – In the consideration stage, target personas have been changed into qualified leads and are seen as prospective candidates. Recruiters can send prospects more information about specific opportunities, accolades, etc. through automated email campaigns, while continuing to nurture them with targeted content, case studies, etc.

Intent- To get to the intent stage, candidates must demonstrate that they are interested and are willing to act. This does not necessarily require a formal application being completed. It could be the candidate filling out a form for additional information on the company. It could be a link to schedule a call directly with a recruiter. Or it could be a simple email capture form about areas of career interest.

When thinking about enhancing your abilities as a recruiting professional, don't miss the importance of honing your marketing knowledge.